Deserts
Frozen Caramel Slice
Shortbread, chocolate and caramel come together in a delicious frozen dessert that will keep the late summer warmed at bay. The bonus? It's freezer-ready for ad-hoc entertaining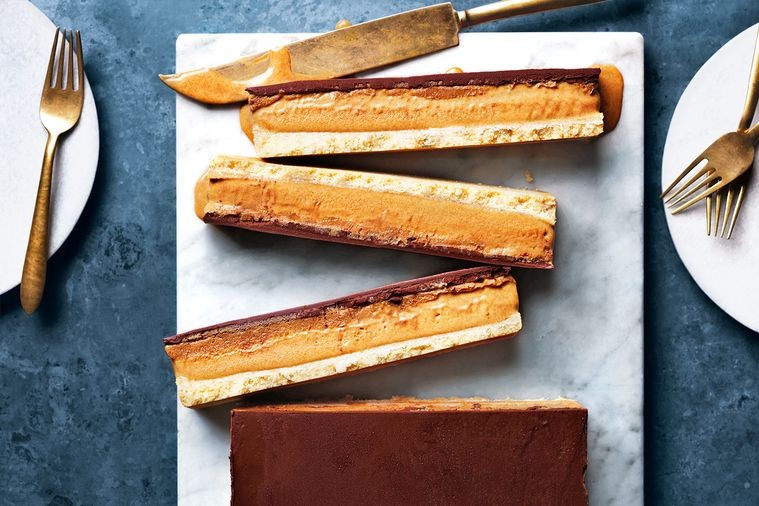 Ingredients
400g of shortbread biscuits
80g of unsalted butter, melted, cooled
1 cup (90g) of desiccated coconut
1.5L of caramel gelato or ice cream, softened
400g of jar dulce de leche
200g dark (70%) of chocolate, chopped
300ml of thickened cream
1/4 of a cup (60ml) of sunflower oil
Prep:
30 mins
Freeze:
Overnight
Method
Grease the base and sides of a 5cm-deep, 20cm x 30cm lamington pan. Line with baking paper, leaving some overhanging.
Place shortbread in a food processor and whiz to fine crumbs. Add the butter, coconut and a pinch of salt, and pulse to combine. Press into the base of the prepared pan, using the back of a spoon to smooth the surface
Spread over gelato, then dulce de leche. Smooth the surface, then freeze for 1 hour to firm up
Place chocolate in a heatproof bowl. Place cream in a pan over medium heat and bring to just below boiling point. Pour the hot cream over the chocolate and stir until melted and smooth. In 2 batches, stir in the oil until combined
Cool slightly, then pour over the slice and smooth the surface. Freeze overnight or until firm.
Remove from freezer 20 minutes before serving. Using a warm knife, cut into pieces and serve immediately.
Recipe from delicious.com
Slow Cooker Jar Cheesecakes
Steal the show with these layered cheesecake desserts. Pop all the ingredients in and let your slow-cooker do the magic.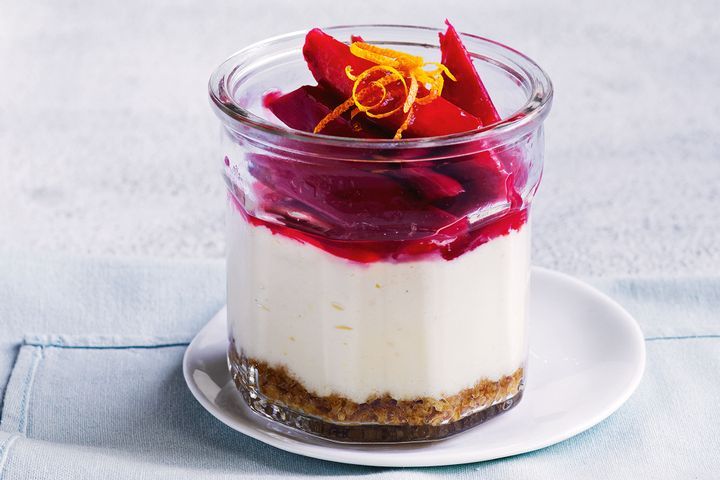 Ingredients
100g Arnott's Butternut Snap Cookie biscuits, broken
20g butter, melted
375g cream cheese, softened
3/4 cup (180g) sour cream
1/2 cup (110g) caster sugar
1 teaspoon finely grated lemon rind
1/2 teaspoon vanilla bean paste
1 Coles Australian Free Range Egg, separated
Roasted Rhubarb
1/2 bunch rhubarb, cut diagonally into 5cm lengths
1/4 cup (55g) caster sugar
1 orange, zested, juiced
Prep:
4 hours and 35 minutes
Cook:
3 hours
Method
Process biscuits in a food processor until coarsely chopped. Add the butter and process until just combined. Spoon evenly among eight 1-cup (250ml) jars. Use the back of a spoon to lightly press the mixture over the base (don't press too hard). Place in the fridge for 15 mins.
Meanwhile, use an electric mixer to beat the cream cheese, sour cream, sugar, lemon rind, vanilla and egg yolk in a bowl until smooth and creamy. Use an electric mixer to whisk the egg white in a clean, dry bowl until soft peaks form. Add to the cream cheese mixture. Gently fold until just combined.
Pour cream cheese mixture evenly over biscuit mixture in jars. Place half the jars in a slow cooker. Pour boiling water into the slow cooker to come 4cm up the sides of the jars. Cover the tops with paper towel. Cover the slow cooker. Cook for 1½ hours on low or until the cheesecakes are just set. Place in the fridge for 2 hours to cool completely. Repeat with remaining jars
While the cheesecakes are cooking, to make the roasted rhubarb, preheat oven to 180°C. Line a baking tray with baking paper. Place rhubarb on tray. Sprinkle with sugar. Drizzle with ¼ cup (60ml) orange juice. Bake for 10 mins or until just tender. Set aside to cool. Place in the fridge to chill
Top the cheesecakes with the roasted rhubarb and orange zest.
Recipe from Taste.com.au
Peanut Butter Choc-Chip Ice Cream
This super-easy peanut butter choc-chip ice-cream is a great make-ahead dessert.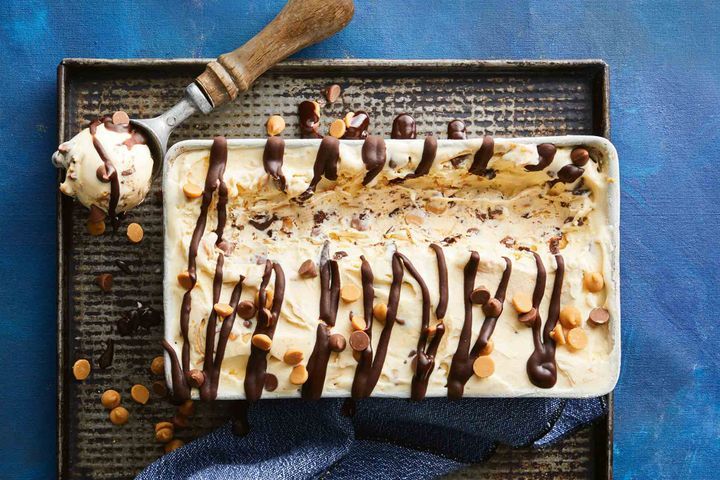 Ingredients
100g dark chocolate, chopped
1/4 cup of thickened cream
2 litres of vanilla ice-cream
1/3 ucp of smooth peanut butter
2/3 cup of milk chocolate chips
1/3 cup of peanut butter chips


Prep:

10 mins

Cook:

4 mins

Freeze: Overnight



Method
Place dark chocolate and cream in a small saucepan over low heat. Cook, stirring, for 2 to 3 minutes or until melted and smooth. Set aside for 10 minutes to cool.
Meanwhile, place ice-cream in a large bowl. Stand for 10 minutes or until softened (ice-cream should not be melted).
Place peanut butter in a small microwave-safe bowl. Microwave on MEDIUM (50%) for 20 to 30 seconds or until softened. Fold peanut butter, 1/2 cup chocolate chips and 1/4 cup peanut butter chips into ice-cream.
Place half the ice-cream in a 7cm-deep, 11cm x 21cm loaf pan. Dollop half the melted chocolate mixture over ice-cream. Using a butter knife, swirl mixture through ice-cream. Top with remaining ice-cream. Spread to level.
Drizzle with remaining chocolate mixture. Sprinkle with remaining chocolate chips and peanut butter chips. Freeze overnight or until firm.
Remove from freezer. Stand for 10 minutes to soften slightly. Serve.
Recipe from Taste.com.au
Mini Churros with Burnt Caramel Sauce
Crispy on the outside and soft on the inside, thee quick and easy churros are served with a mouth-watering salted caramel sauce.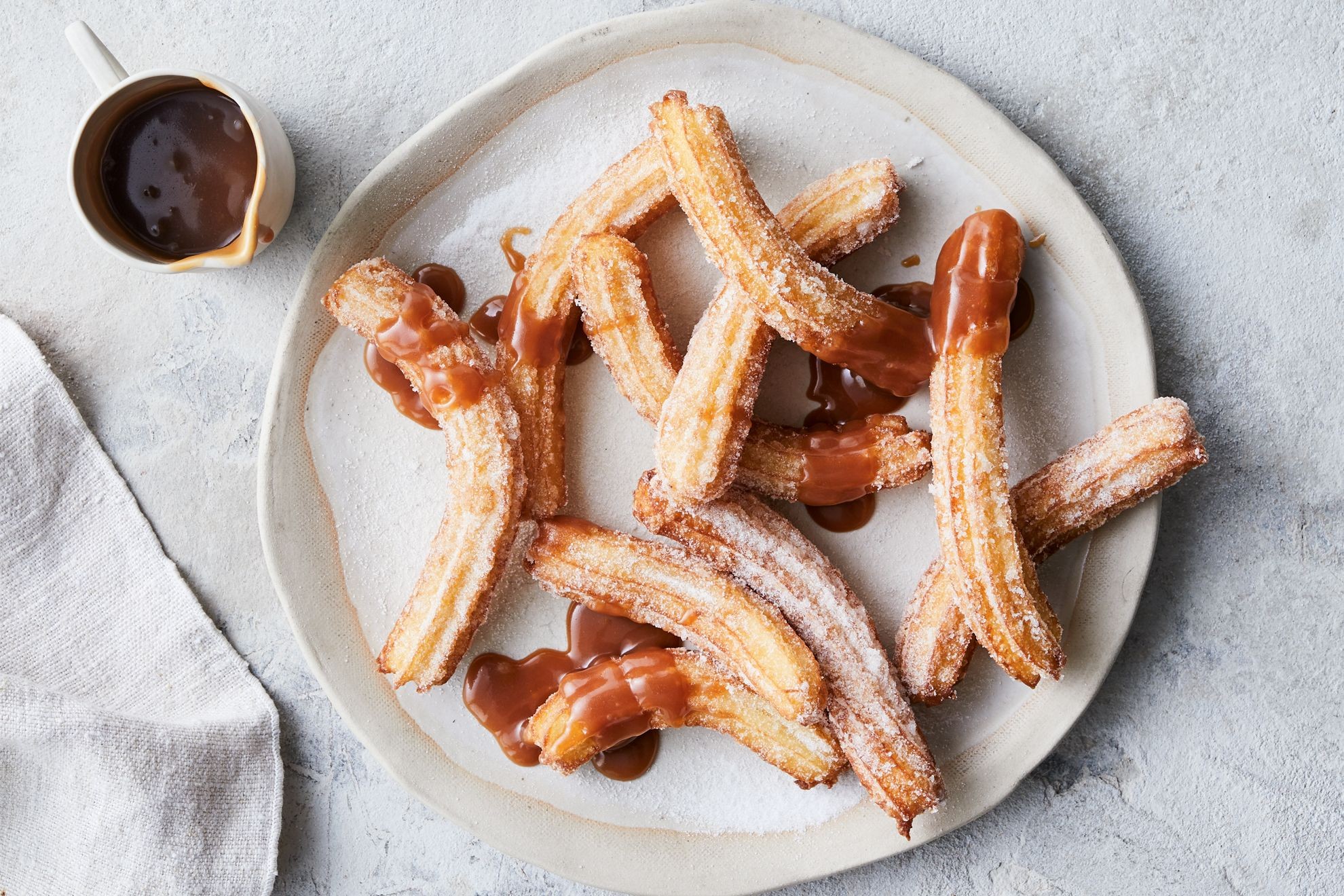 Ingredients
80g butter, chopped
1 tablespoon of caster sugar plus extra to dust
150g (1 cup) of plain flour
1 teaspoon of vanilla extract
2 eggs
Vegetable oil to deep fry
Burnt Salted Caramel Sauce
215g (1 cup) caster sugar
100g salted butter, chilled and chopped
185ml (3/4 cup) of double cream
1 teaspoon of sea salt flakes
Prep:
20 mins
Cook:
20 mins
Method
To make caramel, place sugar in a medium frying pan over medium heat. Cook, swirling pan, for 5 minutes or until sugar melts. Cook for a further 2-3 minutes or until deep golden. Carefully whisk in butter until melted and smooth (caramel may spit). Remove from heat. Whisk in cream until smooth. Stir in salt then set aside.
Place 250ml (1 cup) water, butter and sugar in a medium saucepan over high heat. Bring to boil. Remove from heat. Stir in the flour and vanilla. Set aside for 5 minutes to cool slightly. Transfer to a bowl then use electric beaters to beat in eggs, 1 at a time, until well combined. Spoon dough into a piping bag fitted with a 1.5cm fluted nozzle.
Pour the oil into a saucepan to a depth of 6cm. Place over medium heat and heat to 180C on a cook's thermometer. Pipe five 6cm lengths of dough into oil, cutting dough with a knife. Cook for 2 minutes or until golden. Place mini churros on a plate lined with paper towel. Place extra sugar on a plate. Toss churros in sugar. Repeat with remaining dough, reheating oil, to make 20 mini churros in total.
Heat caramel in microwave in 10-second bursts until warm and runny then spoon into glasses for dipping. Serve with mini churros.
Recipe from Taste.com.au