Gluten Free
Pizza and Homemade Tomato Sauce
This easy to make pizza is not only gluten free but also vegetarian, making it perfect for any occasion."Thin, crisp and delicious – gluten-free pizza never tasted so good!"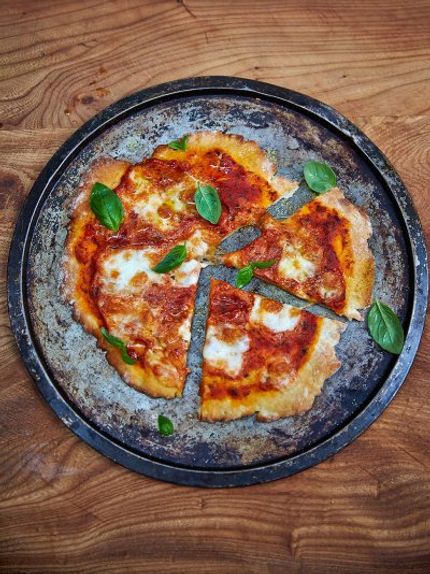 Ingredients
250ml of semi-skimmed milk
1 x 7g sachet of dried yeast
2½ teaspoons caster sugar
400g of gluten-free bread flour, plus extra for dusting
1 teaspoon of xanthan gum
1 teaspoon of fine sea salt
1 large free-range egg
Olive oil
1/2 teaspoon of bicarbonate soda
2 teaspoons of cider vinegar
Topping
1/2 a bunch of fresh basil (15g)
1 clove of garlic
1 x 400g tin of plum tomatoes
2 x 125g balls of buffalo mozzarella
Prep:
15 mins
Time:
45 minutes
Serves:
4 people
Method
Preheat the oven to 220°C/425°F/gas 7. Place a pizza stone or a large baking tray in the oven to heat up.
Heat the milk in a small pan over a low heat until lukewarm, then place 50ml into a jug with the yeast and sugar. Mix well, then set aside for a few minutes until starting to bubble.
Meanwhile, sieve the flour, xanthan gum and salt into a large bowl, then make a well in the middle. In a separate bowl, combine the egg, 3 tablespoons of olive oil and the remaining milk, then pour it into the well, along with the yeast mixture. Gradually bring the mixture together with a fork until it forms a smooth dough.
In a small cup, combine the bicarbonate of soda and vinegar, then quickly knead it into the mixture. Place the dough into a lightly oiled bowl, cover with a damp tea towel, then leave to prove in a warm place for around 1 hour, or until doubled in size.
Meanwhile, make the topping. Pick the basil leaves and set aside, then finely chop the stalks. Peel and finely chop the garlic. Heat a splash of olive oil in a large frying pan over a medium heat, then add the basil stalks and garlic. Cook for a few minutes, or until golden. Pour in the tinned tomatoes, break them up with the back of a wooden spoon, then cook for 5 to 10 minutes, or until thickened. Transfer to a blender along with half the reserved basil leaves, blitz until smooth, then season to taste with sea salt and black pepper.
Once doubled in size, divide the dough into four equal-sized pieces on a flour-dusted surface. Roll out until roughly 30cm in diameter and 2mm thick. Place the pizza bases onto the preheated pizza stone or baking tray (you'll need to do this in batches), then spread over the tomato sauce, leaving a rough 2cm gap around the edge. Tear over the mozzarella, then pop in the hot oven for 10 to 12 minutes or until golden and crisp. Scatter the reserved basil leaves on top, then serve.
Recipe from Jamie Oliver
Veggie Lasagne
No one has to miss out on lasagne with this gluten-free, vegetarian version.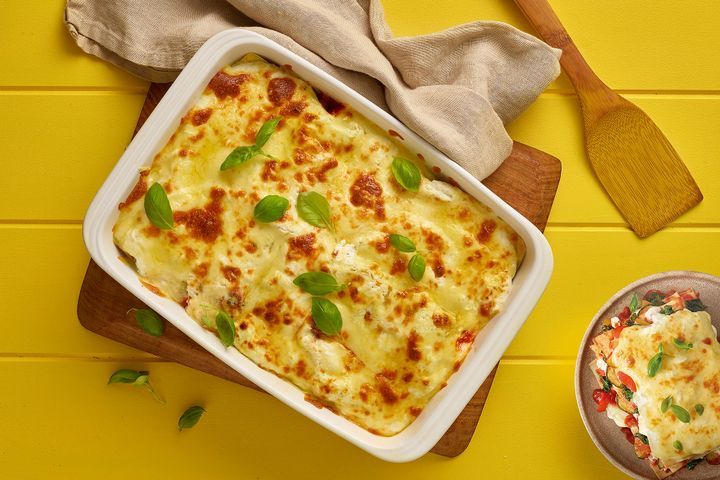 Ingredients
1 tablespoon oil
1 red capscium, seeeded amd finely sliced
1 yellow capsicum, seeded and finely sliced
1 large zucchini, cut in half lengthwise and finely sliced
2 large kale leaves, stalks removed and finely sliced
1 large clove garlic, crushed
500g smooth ricotta cheese
50ml milk
Salt and pepper (to taste)
500g gluten free tomato pasta sauce
280g Latina™ Fresh Gluten Free Lasagne Sheets
100g grated mozzarella cheese
2g grated parmesan cheese
Fresh basil leaves to serve
Prep:
15 mins
Cook:
40 mins
Method
Pre-heat oven to 180c. Heat oil in a large frypan to medium and sauté the vegetables and garlic until just tender. Remove from heat. Place ricotta in a small bowl and add the milk or water and season to taste. Mix well.
Using a 26cm rectangular oven proof baking dish, place 3 tablespoons of the tomato sauce on the base of the dish and spread evenly. Then top with a layer of the lasagne sheets, more tomato pasta sauce a third of the veg mix, and a few tablespoons of the ricotta mix all spread evenly.
Continue with another 2 layers as above and finish with a further layer of lasagne sheets and the remaining ricotta mix. Sprinkle with the cheeses evenly.
Bake for 35-40 minutes or until lasagne is cooked through and cheese is golden. Allow to rest for up to 10 minutes before serving with sprinkle of basil leaves.
Recipe from Taste.com.au
Shortbread Cookies
Shortbread cookies are an old cookies but still a favourite and this is how to make the very best gluten-free shortbread.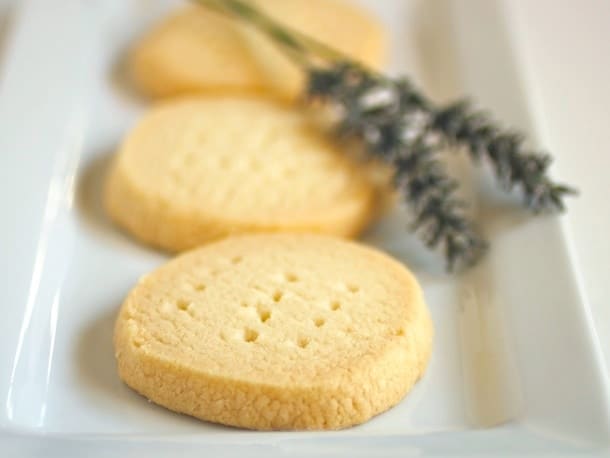 Ingredients
1 and 1/3 cups white rice flour
1/2 cup sweet rice flour
1/2 cup cornstarch
1 teaspoon salt
1/4 teaspoon baking powder
1/4 teaspoon xanthan gum
14 tablespoons butter, softened
3/4 cup granulated sugar
1 teaspoon vanilla extract
Prep:
15 mins
Cook:
30 mins
Method
Preheat oven to 300°F or 150°C. Line baking sheet with parchment paper. In small bowl, whisk together white rice flour, sweet rice flour, cornstarch, salt, baking powder, and xanthan gum. In bowl of stand mixer fitted with paddle attachment, cream butter, sugar, and vanilla extract together, on medium-low speed, until a thick paste forms, about 30 seconds. Shut off stand mixer. Add dry ingredients. Turn on mixer and mix until a dough forms, about three minutes.
Lightly white rice flour your countertop. Turn dough out onto counter and shape dough into a disk. Using a rolling pin, roll dough out, about 1/4-inch thick. Cut using a round cutter and place cookies on prepared baking sheet, about two inches apart. Chill cookies for ten minutes.
Bake until cookies are lightly golden brown on the edges and aromatic, about 30 minutes. Allow cookies to cool on the pan for five minutes and then transfer to wire rack to cool. Repeat using remaining dough.
Store in an airtight container for up to two weeks.
Tips:
Don't overmix
Take your time
Re-rolling is welcome
Recipe from gluten-free baking
Mini Pavlovas with Mango Nice Cream and Berries
Petite and pretty pavs - these mini low-cal pavlovas with mango nice cream and berries recipes make a delightful dessert for any crowd!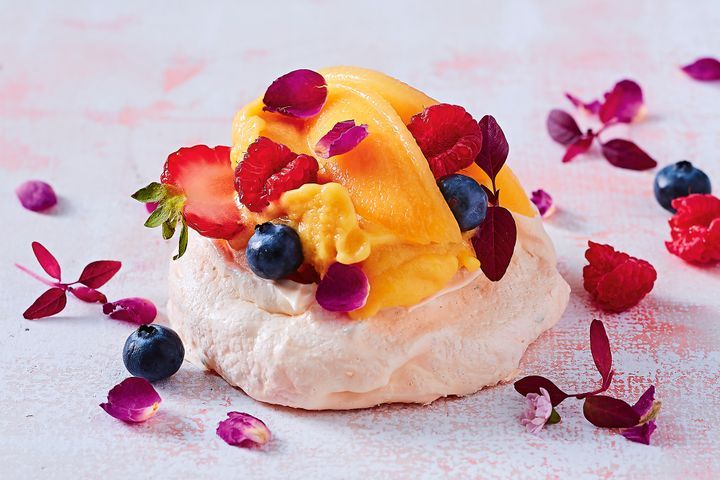 Ingredients
4 egg whites
155g (3/4 cup) caster sugar
1 lime, rind finely grated
5 tablespoons fresh lime juice
2 tablespoons gluten-free cornflour
2 large bananas, chopped, frozen (see tips)
250g frozen mango
60ml (1/4 cup) unsweetened coconut milk
1 fresh mango, thinly sliced
Fresh berries, to serve
Edible flowers, to decorate (optional)
Prep:
30 mins
Cook:
1 hour
Method
Preheat oven to 140°C/120°C fan forced. Draw eight 8cm circles on 2 sheets of baking paper. Place the baking paper, ink-side down, on 2 baking trays.
Use electric beaters with whisk attachment to whisk egg whites in a clean, dry bowl until soft peaks form. Gradually add sugar, 1 tablespoonful at a time, until sugar has dissolved and mixture is thick and glossy. Beat in lime rind, 1 tsp juice and cornflour until well combined. (Be careful not to overbeat.)
Divide meringue among marked circles on paper. Use a palette knife or back of a spoon to shape. Make a slight well in the centre of each. Bake, swapping trays halfway through cooking, for 1 hour or until crisp and dry. Turn off oven. Leave meringues in oven, with door slightly ajar, for 2 hours to cool completely.
Place banana, frozen mango, milk and remaining lime juice in a food processor and process until thick and smooth, scraping down side occasionally (this will take 3-4 minutes).
Top meringues with nice cream, fresh mango, berries and flowers, if using, and serve immediately.
Tips:
Place chopped banana in a single layer in an airtight container. Freeze for 3-4 hours.
Unfilled meringues can be stored in an airtight container for up to 4 days.
Not eating immediately? Store nice cream in the freezer. Soften for 5-10 minutes to serve.
Recipe from Taste.com.au
Carrot Cake Pop Tarts
Half carrot cake, half pop tart, 100% tasty and completely gluten-free.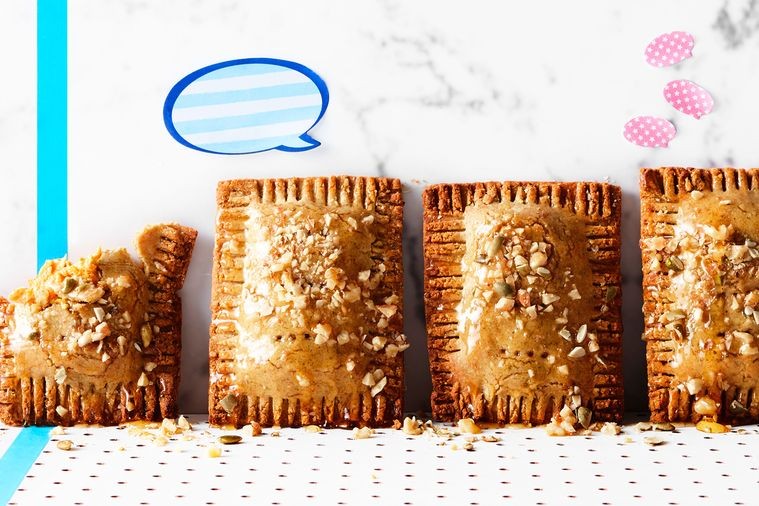 Ingredients
1 medium carrot, coarsely grated
1/2 tablespoon ground cinnamon
75g cream cheese
2 tablespoons finely chopped walnuts, plus extra to serve
1 tablespoon rapadura sugar
2 tablespoons rice malt syrup, warmed
Pumpkin Seed Pastry
1/4 cup (25g) walnuts
1/4 cup (40g) pumpkin seeds (pepitas
75g rice flour
1/2 cup (75g) chickpea flour (besan)
1/2 cup (50g) almond meal
1 tablespoon rapadura sugar
1 tablespoon xanthan gum
80g cold unsalted butter, chopped
1 egg
Prep:
1 hour
Cook:
20 mins
Method
For the pastry, place walnuts and pepitas in a food processor and whiz until finely chopped. Add flours, almond meal, sugar and xanthan gum, and whiz to combine. With motor running, add butter, 1 piece at a time, whizzing until it resembles coarse breadcrumbs. Add egg and pulse until mixture just comes together. Enclose in plastic wrap and chill for 30 minutes.
Meanwhile, to make the filling, combine carrot, cinnamon, cream cheese, walnut and sugar in a bowl. Set aside.
Preheat oven to 200°C. Grease a large baking tray and line with baking paper.
Roll out pastry between 2 sheets of baking paper to 3mm thick. Cut into twelve 8cm x 11cm rectangles, re-rolling pastry as required. Transfer half the pastry pieces to the prepared tray. Top with filling, then remaining pastry pieces. Use a fork to press the edges together to seal
Bake for 20 minutes or until pastry is golden. Set aside to cool slightly.
Brush pop tarts with rice malt syrup and scatter with extra walnut.
Recipe from delicious.