Meals
Swedish Meatball Burgers
Love Swedish meatballs? Here they are transformed into a burger that everyone will adore – choose beef or pork mince, the flavours will be the same.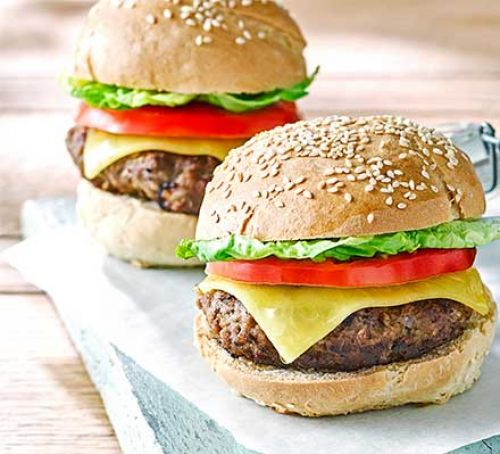 Ingredients
500g of lean beef or pork mince
1 onion, coarsely grated
1 egg beaten
25g dried breadcrumbs
Grated nutmeg
1/4 of a teaspoon of garlic powder
Burger buns, sliced cheese, lettuce, sliced tomato and lingonberry sauce to serve
Prep:
15 mins
Cook:
10 mins
Chill:
1 hour
Method
Tip the mince, onion, egg, breadcrumbs, nutmeg and garlic powder into a large bowl and generously season with black pepper. Mix everything together using your hands, then shape the mixture into six patties. Transfer to a plate, cover and chill for 1 hour or up to a day.
Heat a barbecue to medium or until a thin layer of coals has turned grey. Cook the burgers for 10 mins, turning occasionally, until lightly charred and cooked through. Top with sliced cheese during the final 2 mins of cooking time, if you like.
Serve the burgers in the buns topped with the lettuce, tomato and lingonberry sauce, if you like.
Tip: The burgers can also be grilled or pan-fried for 10 mins, turning halfway through.
Recipe from Goodfood
Chicken Cacciatore
This quick, healthy, hearty chicken dish is cooked with lots of vegies and fresh flavoursome herbs.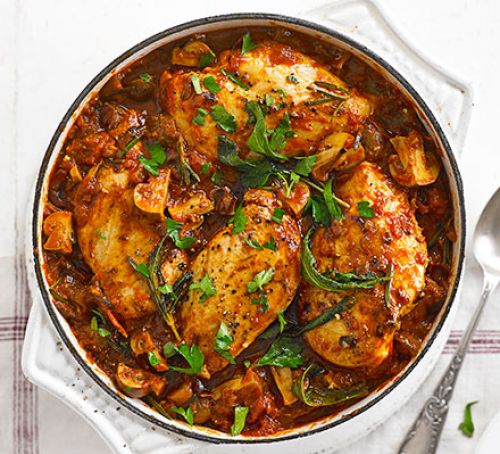 Ingredients
350g of dried macaroni pasta
1 tablespoon of olive oil
650g of chicken breast fillets, cut into 4cm pieces
1 celery stick, trimmed and thinly sliced
1 carrot, peeled and thinly sliced
125g (1/2 cup) of roasted red capsicum
2 sprigs of fresh rosemary
80ml (1/3 cup) of white wine
1 x 400g Barilla Olive Pasta Sauce
125ml (1/2 cup) of water
1/4 cup of chopped fresh continental parsley
50g (1/3 cup) of coarsley grated parmesan
20g of butter
Prep:
15 mins
Cook:
15 mins
Method
Cook the pasta in a large saucepan of salted boiling water following packet directions or until al dente. Drain and return to the pan.
Meanwhile, heat the oil in a large non-stick frying pan over high heat. Season the chicken with salt. Add to the pan and cook for 2 minutes each side or until browned. Transfer to a plate. Add the celery and carrot to the pan and cook, stirring, for 1 minute or until the vegetables are just tender.
Add the capsicum, rosemary and wine to the pan and cook for 1 minute or until the wine reduces slightly. Add the chicken, pasta sauce and water, and cook for 5 minutes or until the chicken is cooked through. Stir in three-quarters of the parsley.
Add the parmesan and butter to the pasta and toss to combine. Divide among serving plates. Top with the chicken mixture and the remaining parsley. Serve immediately.
Recipe from Taste.com.au
Salmon Nicoise Salad
Salmon fillets replace the usual canned tuna in this filling and tasty Mediterranean salad.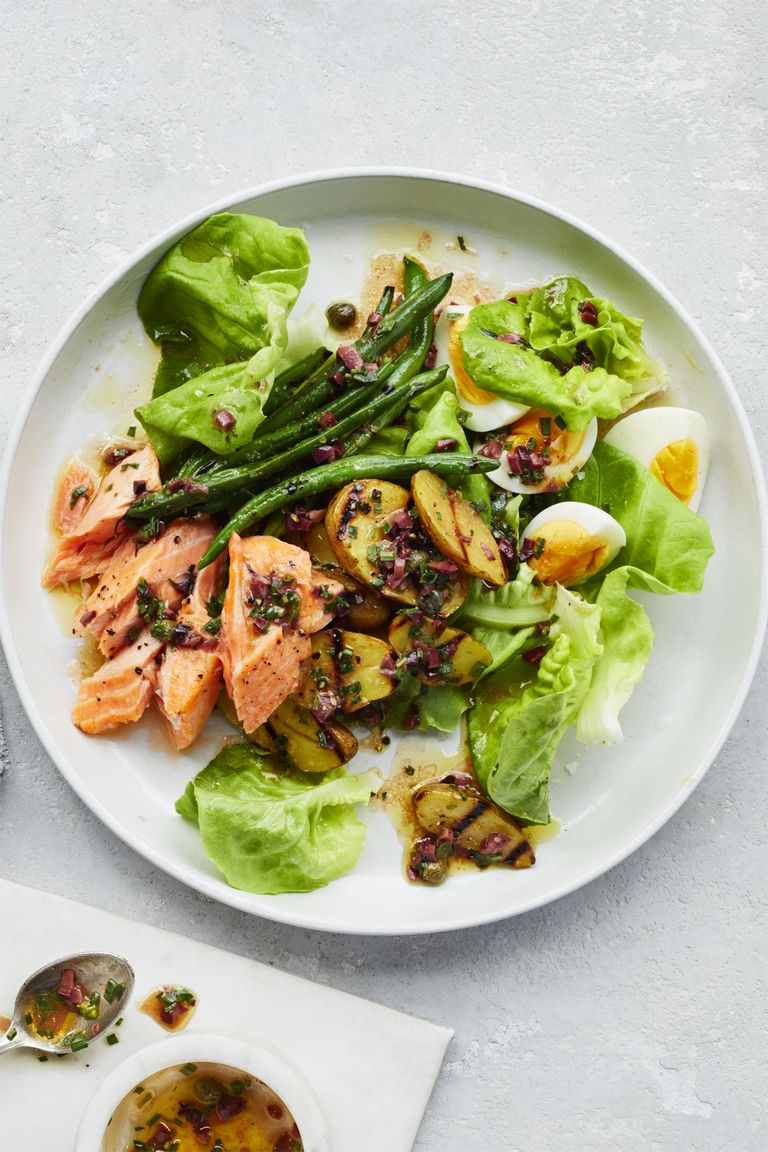 Ingredients
12 (about 650g) baby coliban (chat) potatoes, unpeeled
300g of green beans, topped
4 eggs
280g of pkt Atlantic salmon Fillets
60ml (1/4 cup) of extra virgin olive oil
50ml of fresh lemon juice
2 teaspoons of Dijon mustard
1 x 120g pkt baby mesclun
2 ripe tomatoes, coarsely chopped
1/3 of a cup of fresh dill sprigs
65g (1/3 cup) kalamata olives
Prep:
25 mins
Cook:
20 mins
Method
Cook the potatoes in a large saucepan of boiling water for 12 minutes or until just tender. Use a slotted spoon to transfer to a clean work surface. Halve.
Add the beans to the pan and cook for 2-3 minutes or until bright green and tender crisp. Refresh under cold running water. Drain.
Meanwhile, place the eggs in a small saucepan of cold water. Bring to the boil over high heat. Reduce heat to medium and gently boil, uncovered, stirring occasionally, for 7 minutes. Drain. Cool under cold running water. Peel and halve.
Cook the salmon in the microwave following packet directions. Flake into large pieces
Whisk together the oil, lemon juice and mustard in a jug. Season with salt and pepper.
Divide the potato, beans, egg, salmon, baby mesclun, tomato, dill and olives evenly among serving bowls. Drizzle over the dressing to serve.
Recipe from Taste.com.au