Snacks
Brown Butter, Caramel and Chocolate Cookies
This easy recipe is an upgrade on the classic chocolate-chip cookies that are perfect for any occasion.
Ingredients
225g of salted butter
210g of brown sugar
100g of caster sugar
2 large eggs
1 teaspoon of vanilla paste
330g of plain flour
3/4 teaspoon of baking powder
3/4 teaspoon of bi-carb soda
180g of dark chocolate, roughly chopped
100g of chewy caramels, roughly chopped
1 cup of pecans
Sea salt flakes to finish
Prep:
20 mins
Cook:
24 mins
Method
Pre heat oven to 160°C and line 4 baking trays with baking paper
Place the butter in a medium saucepan over medium heat and cook until the butter foams and turns a light brown colour. Pour the butter into the bowl of a stand mixer to cool
Add the sugars to the cooled browned butter and mix on medium speed until combined. Add the eggs one at a time followed by the vanilla. Turn the mixer up to high and beat until the mixture has lightened in colour, 2-3 mins
Sift the flour, bi-carb and baking powder into the mixing bowl and mix until just combined. Remove the bowl from the mixer and use a spatula to scrape down the bowl and incorporate any ingredients that haven't fully been mixed
Add the chocolate, caramels and pecans and mix by hand to combine
Using a small ice cream scoop or a tablespoon, form balls around 2 tablespoons in size. Arrange the balls on baking trays leaving room for them to spread, around 6-8 balls per tray
Bake the cookies for 10-12 mins or until they are just set to touch. Sprinkle a little flaked salt over each cookie and leave for 10-15 mins before transferring to cooling racks to cool
Recipe from my foodbook
Chocolate Orange Truffles
With dates, almonds and chia seeds, this chocolate orange snack will quickly become a healthy favourite.
Ingredients
2 tablespoons of black chia seeds
60ml (1/4 cup) of fresh orange juice
85g (1/2 cup) of dry-roasted almonds, plus extra tablespoon finely chopped
2 teaspoonns of finely grated orange rind
200g of medjool dates, pitted and coarsely chopped
45g (1/2 cup) of desiccated coconut
2 tablespoons of cacao powder
150g of dark chocolate (85% cocoa), chopped
Prep:
15 mins
Cook:
45 mins
Method
Combine chia seeds and orange juice in a small bowl. Set aside for 10 minutes to soak.
Process the almonds in a food processor until coarsely ground. Add the chia mixture, orange rind, date, coconut and cacao powder and process until evenly combined. Roll level tablespoonfuls of the mixture into balls.
Line a baking tray with baking paper. Place chocolate in a heatproof bowl over a saucepan of simmering water until melted. Place 1 ball in the chocolate and use a fork to roll the ball around until coated evenly. Use the fork to transfer truffle to prepared tray, draining off excess chocolate over bowl (use another fork to gently push the truffle onto the tray).
Repeat with remaining balls. Sprinkle with the extra almond. Set aside to set. If it's warm, place in the fridge to set. Keep for up to 2 weeks in an airtight container in a cool place.
Recipe from taste.com.au
Rosemary, Garlic and Chilli Popcorn
This popcorn has it all but is extremely easy but the flavours go so well together you cannot stop eating handfuls of this stuff.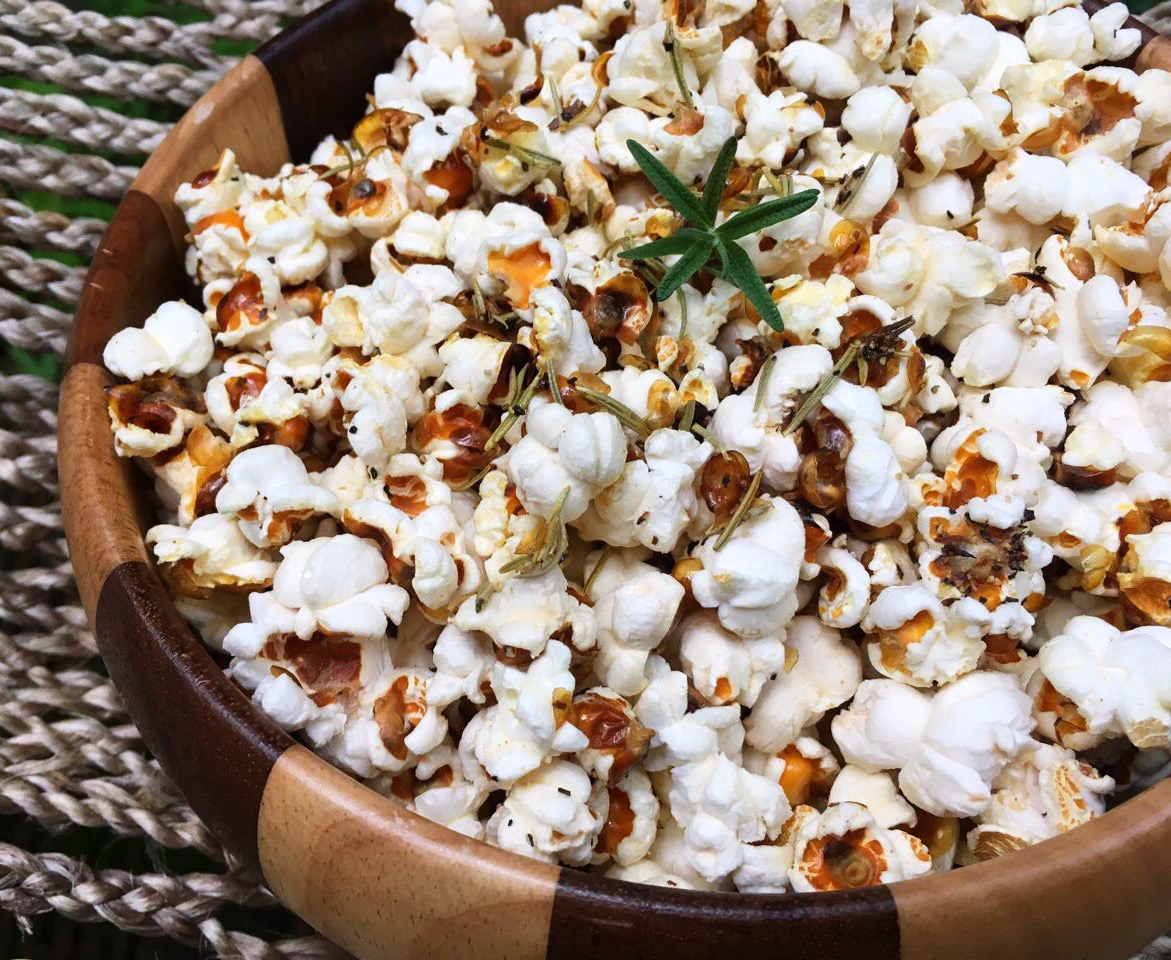 Ingredients
1/2 a cup of popcorn kernels
1/4 a cup ofcanola oil or grapeseed oil (or other high flashpoint oil)
1 tablespoon plus 1/2 a teaspoon of fresh minced rosemary
1/2 a tablespoon of garlic powder
3 tablespoons of unsalted butter
1/2 a teaspoon kosher or sea salt, or to taste Fresh
cracked black pepper, to taste
Serves:
2-4 people
Method
Heat the oil large pot over medium heat.
After the oil is hot, add the popcorn kernels and the 1-tablespoon of rosemary, and then shake the pot to gently toss the kernels until they are all coated with oil.
Cover with a splatter screen or a lid that is placed slightly ajar to allow the steam to escape.
Cook until the popcorn popping frequency slows to several seconds between pops.
Remove from heat, allow a minute or two for any final pops, and then pour into a large bowl.
In a small saucepan combine the butter and remaining ½ teaspoon of rosemary. Melt the butter over medium heat.
Drizzle over the popcorn and season with salt and pepper, tossing occasionally as you butter, salt, and pepper the popcorn.
Tip:If you want a bit of heat, you can add a sprinkling of pepper flakes.
Recipe from sprinkles and sauce